Marketing is not just the act of selling goods and services of a business. It involves several other activities, including but not limited to advertising, planning, market research, sales, after-sales, customer support.
It is the complete process that defines the entire relationship between a business and its customers.
This function is one of the most critical aspects of any business, big or small. Without a competitive, strategic marketing management team, no business can survive the onslaught of competition.
Marketing management encapsulates these principles required for the sustenance of sales and customer management in an organization.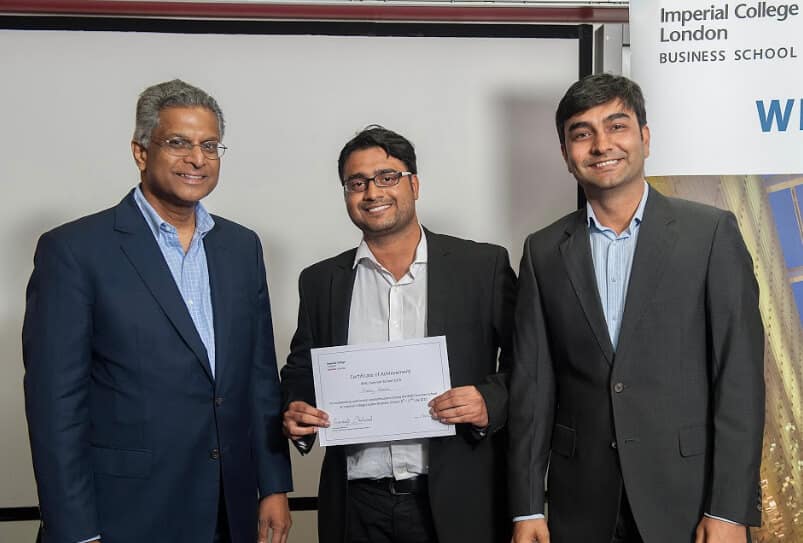 Marketing management is no longer about sales or advertising alone. The function is a lot more strategic and dynamic, and it requires constant analysis of information about products in the market, changes in the market scenario, customer behaviour, feedback, competitors, etc.
Hence this function requires skilled managers or professionals who can meet up to the expectations of this competitive market.
Enquire Now for Admissions
Marketing Management is a two-year post-graduation degree wherein an MBA student can choose Marketing as a specialization in their second year of study. Some of the key concepts taught in marketing management are:
Market analysis
Market research
Marketing strategies
Consumer Behavior
Product management
Customer support
Branding
Customer feedback
Promotion and advertising
Who should choose?
Anybody who applies and gets selected for an MBA course can choose to study Marketing Management in their second year of study. However, some traits are required for a marketing professional to be successful in his or her career. These traits are:
Analytical skills
Confident communication
Interpersonal effectiveness
Problem-solving
Out of the box thinking
Dealing with ambiguous
Adaptability
Result Orientation
Some of these skills are inherent, and some can be honest with practice.
Key modules:
Consumer Behavior: There is a lot of focus on why or why not a consumer should or will buy a product. The factors that lead to this action comes under the purview of consumer behavior. And the students of the marketing discipline need to have an in-depth understanding of the same.
Digital Marketing: With the advent and greater reach of digital media, businesses know that there is no better way to reach customers than through digital spaces such as social media or digital content. There is a lot of investment from a company's end to market its products through digital mediums.
Marketing Research: Marketing is a subject that deals with analysis. Analysis of market, competitors, consumers, the product itself in order to find better and more efficient avenues to make a sale possible. The Market research deals with one of these sub topics, which basically focusses on information collection and analysis.
Rural Marketing : The rural economy in India is a huge untapped market for the retail segment. It has its own share challenges, however many opportunities too, that have not yet been explored. Rural marketing not only helps businesses to acquire a huge market share, but it also serves the social purpose of social upliftment.
Retail Marketing: Retail marketing provides an overview of the retail scenario of the country's economy. The unorganized retail, as well as the organized retail, need to contribute to the GDP; the subject aims to focus on that. It talks about the different trends and newer developments in the retail sector across the world.
Why Critical for Business?
The scope of marketing management in the world, as well as in India, is huge. Post globalization, more and more companies are functioning on a level playing field across the world. The international boundaries have become fuzzier. Goods and commodities compete with one another, a lot more than they used to in the pre-globalized world.
In other words, competition for any business is huge. Not only domestic competition but also competition from global players.
This has raised the standards for the requirement of promotion and customer-centricity. This is where Marketing has become an utmost necessity.
Battle of prices, quality, advertisements, freebies, after-sales support – have become a necessity for businesses to survive. A competitive, strategic marketing team helps companies to tap more customers and retain them as well. Hence it is so critical.
Career options:
Such professionals are recruited in profiles such as:
Market Research specialist
Brand Manager
Communication manager
Sales Manager
New Product Manager
Promotion manager
Marketing executive
Advertising manager
PR Manager
Further prospects:
A student in the marketing management field can always choose to do higher studies and move into the academic field by doing doctoral courses or research in the function.
Coupled with an Entrepreneurship degree, these grads can also consider a start-up firm of their own.
Management in Entrepreneurship
Entrepreneurship comes from the French words "entre," meaning 'between' and "Prendre" meaning "to take."
Entrepreneurship is the process of identifying opportunities, grabbing those opportunities to build a new enterprise while taking a financial and social risk and finally moving towards a path that is satisfactory and independent. A person who takes that risk and effort are called an entrepreneur.
An MBA in Entrepreneurship is inculcated students with the required knowledge, skills, and aptitude that are needed to undertake entrepreneurship.
The course equips a student to build on his business ideas, explore the market for product acceptance and find routes to capital in order to take up the venture to the market.
Everybody cannot become a good entrepreneur. It takes a lot of grit, intent, risk-bearing capacity and willingness, thought leadership, and out of the box thinking to become a good Entrepreneur.
A course in Entrepreneurship aids a student with these attributes to commercialize their ideas. Entrepreneurs play a big role in contributing to society by generating employment.
If an entrepreneur is able to steer his business in the direction of growth, he can not only sustain such employment opportunities but also creates newer opportunities, the profit earned can be invested in societal causes.
There is a different kind of entrepreneurship known as social entrepreneurship that exists to solve social or environmental concerns. Such as creating low-cost water purifying machines or low-cost medicines.
Who should choose?
The main criteria for choosing Entrepreneurship should be the drive in the student to create something new, to question the status quo, and have new ideas.
There should be intent to live one's dream at the cost of taking some risks. Starting a business is not an easy task; there is a lot at stake because not all ideas stand tall and yet those who make it big, earn more than just a fortune.
Although studying entrepreneurship can get many corporate jobs as well, most students with a vision to start a business on their own, pursue this specialization. Some of the basic attributes in an Entrepreneurship grad are:
Innovation/ Out if the box thinking
Analytical skills and reasoning
Research orientation
Business acumen
Problem-solving
Keen customer focus
Communication excellence
Great leadership skills
Ability to take, assess and mitigate risk
Key modules:
Entrepreneurship courses taught in India vary in the course modules. However, the central concepts of entrepreneurship revolve around the below theories:
Understanding Market
Building team
Finding customers
Innovation and entrepreneurship
Raising capital
Building agile products and finding product-market fit
Importance of PR
Ideas and metrics
Corporate strategy (value proposition, business model, tools for execution, business planning)
Career options
Not everyone who clears a management degree in Entrepreneurship can or want to become an entrepreneur immediately afterward. This is mainly because becoming an entrepreneur requires some experience of the business and also a huge capital.
Sometimes even with the aid of venture capitalists, this requirement cannot be made. Another reason why an Entrepreneurship grad does not want to start a business immediately at the start of his career is that it involves a huge amount of risk.
While some amount of risk is involved in any start-up, it should be calculated risk that can be mitigated.
Most entrepreneurship management students can work in some of these profiles as they prepare themselves for setting up a business on their own.
-> Business Consultant: As a business consultant, Entrepreneurship grads represent their companies to the client, resolve their queries, identify problems and work towards resolving them. This is a perfect example of what an entrepreneur would need to do in his business, which is why a student with an entrepreneurship degree is best suited for this profile.
-> Research and Development: These students need to have a good understanding of the products in order to be able to make it saleable. Hence working in the R&D team makes it a good option for them
-> Sales and Marketing: This is a good field for Entrepreneurship MBAs as it helps them to understand the essence of marketing in a corporate set up. It provides an opportunity to prepare for the same role in their own business at a later stage.
-> Managerial profile: Basically, a student of Entrepreneurship studies all modules of business management with the exception of few. Thus they can easily work in the mid-management profile
-> Non-profit organizations: These are somewhat like a start-up , however, the risk is minimal as these organizations do not earn revenue to make a profit.