Data analytics have been in use since 5000 BC, as we know from manuscripts. If we put it simply, data analytics are nothing more than 'data management. So now you can relate that even our forefathers implemented various skills of data maintenance since the time data was created.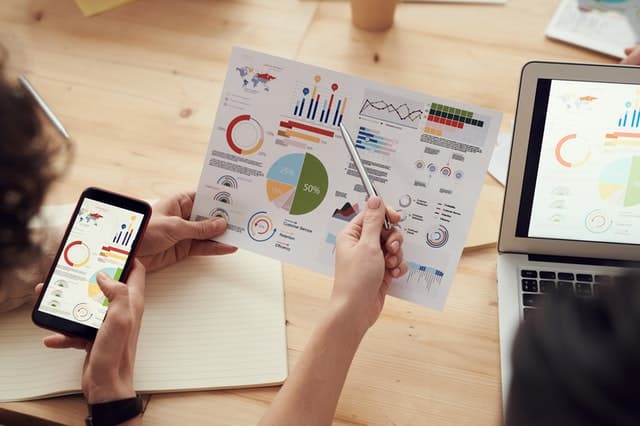 With the advent of the newer form of technologies, data analytics have also ensured to keep it groomed with the ongoing trend of development. Data analytics was added in the MBA course, a few years back, to ease the maintenance of business records. Though now being considered among the top MBA specializations, the scope of MBA in Business Analytics is quite high.
Now if you hear your peer saying out loud 'that you are not going to end up with a good job if you opt for this particular MBA genre', turn a deaf ear to it. According to the trend, by the end of 2018, the US has got a probable chance of facing a shortage of 190,000 analytics professionals'. So if you can digest all the skills, then you are pretty good for the job market.
Companies are no longer looking for Mathematics or statistics graduates for their analytics department, instead, now they are regularly on the lookout for MBA students.
What Is MBA In Business Analytics?
Fragmentation of the word of the combined term of business analytics you would get two separate words 'business' and 'analytics'. So if you want to pursue MBA in Business Analytics you would have to grasp the concept behind these two words. Since it is hard to find someone who isn't acquainted with what the business is, here is what you need to know about analytics.
Techniques implementing statistical and mathematical skills, which are used to measure business growth graphs and central tendency (don't fret it would be covered in your course).
Some skills of linear programming by utilizing efficient procedures of operational research.
Some data programming techniques.
So as you can see analytics is not about data entry, which is a complete myth. It involves other easy but crucial processes much needed for a business to flourish. Even if you aren't from a technical background, like BCA, computer science, or B.Tech you can still be a pro at this, provided you attain your lectures regularly.
Analytics is the Future of all Business Processes
As mentioned in the introduction, businessmen even before the birth of Christ have implemented analytics to keep things sorted. Not using technology, but applying conventional tricks. Pursuing an MBA in this background can help you see and perceive the world of business in a very systematic way. You have to extract business-related data from various ongoing processes and arrange it, not only systematically, but also sticking to several norms. For example, analytics supply businesses with the following ideas:
Giving oneself the gift of visualizing the types and behavioral patterns of data is noticeable.
Then you can explore your way around in the world of data, by not getting yourself lost obviously!
After that, a business analyst sorts the data needed and arranges it maintaining the requirements.
What is the scope of pursuing an MBA in Business Analytics?
Although you may get to hear that the world of business analytics usually revolves around 'Big data' but it is partially true. Here is how pursuing this course might take your career:
You would be assigned to get a thorough insight into ways to apply data to understand and find solutions to past and future business situations.
You owe a very fat chance to get placed in this job role, as it requires you to the business performance of your organization in the past. And to hunt out the fallacies so that they wouldn't get repeated in the future.
Though a name sounds a bit peculiar, you would be given sufficient training for these, so don't be stressed. You would be responsible to explore and sort out optimization procedures to ensure stronger productivity and other factors. This in a way will ultimately lead to you earn higher annual returns for your company.
For a very long amount of time, this MBA specialization has been often misunderstood and underestimated. But fortunately, things have started looking better, and according to experts, recruitments are expected to bloom over the next few years. Thanks to the advent of the internet, that data analytics finally managed to pave its way in every other industry taking the concept of business analytics with it as well.
Benefits of Opting for MBA in Data Analytics
Now, while you may find several benefits during the tenure of the course as well as after getting recruited. Here are some benefits arising from a report to keep you sorted:
This procedure implements the utilization of data mining to analyze current trends in productivity and customer relations. With this methodology, you would explore the probable options of your customers for their future purchases. These skill sets are beneficial to the company because it keeps them updated about their customer preferences.
You would be stunned at your newly gained decision-making skills. It would make you all confident and bold taking away traces of fear and hesitation. Thus you would be able to take an active part in the decision-making sessions organized by your company.
If you are keen to explore and make your way into the goldmine of big data analytics, then here is your chance. Big data has evolved to be an essential component of giant business sectors. If you manage to get your dream role, be sure to explore it to its fullest. Perceiving the sense of urgency many esteemed colleges are opening up their gates for an MBA in Business Analytics. Make sure to do a bit of research about the recruitment records of the institute you are opting for before sealing the deal.
Kick-start a Promising Career
Contrary to the popular belief, pursuing this particular stream can give your career the kick-start it has been waiting for. And since it is yet to get into the limelight, which is a way favors the students opting for it.
So it can prove to be one of the best triggers to the onset of the growth of your career opportunities. And if you don't know it already, then hear this blatant truth, that most industries existent on Earth utilizes business analytics to keep their operations in check. Don't believe it; let's see what a survey says! According to a survey conducted by the Computer World, these are the responses received regarding the implantation of business analytics in numerous sectors:
Financial sectors top the list with 15%.
With the manufacturing and technology industries following it by 14% and 13% respectively.
Health industries taking up 8%.
And the government, education, personal business and retail wholesome following these.
So now that you have gained a fairly practical idea about MBA in Business Analytics, you shouldn't be in denial any more. Experts believe that business analytics is one big package that owns the competency to solve every problem persistent in the business processes today. At BMU, we offer an MBA in Business Analytics where students gain a lot of insights on the current market trends. They get to learn a lot about Operations research, Machine learning, Data Mining, etc.
The best part, students go through a rigorous curriculum where they have to take part in multiple projects to get an experiential scope of the scope so that they can relate to real-world problems. From departments like strategic planning, sales to even HR, without business analytics these would stop operating aptly. So, MBA in Business Analytics is certainly the upcoming big thing in India.