UG Programmes

MBA Programme

PhD Programme

Subscribe
MBA in Supply Chain vs Marketing Management – Making the Right Choice
by
BML Munjal University
February 5, 2020
Supply Chain Management
Supply-chain management is defined in the APICS Dictionary as the "design, planning, execution, control, and monitoring of supply chain activities with the objective of creating net value, building a competitive infrastructure, leveraging worldwide logistics, synchronizing supply with demand and measuring performance globally."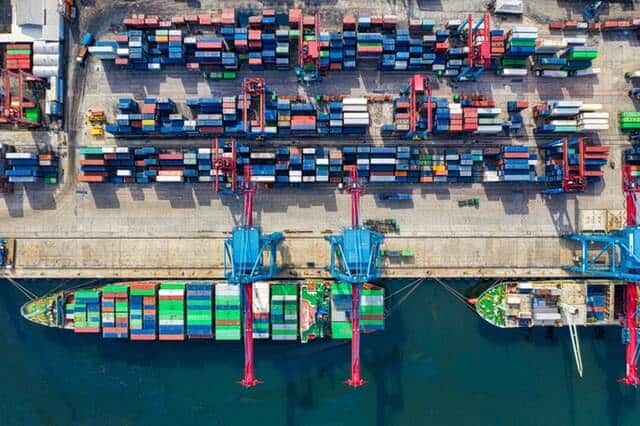 It starts from the movement of raw materials, its storage, inventory management to work in progress (WIP) goods, and finished goods, logistics, and movement out of finished goods to the end customers.  This entire process involves a complex network of planning and logistics which essentially comes under the purview of Supply Chain Management or SCM.
Supply Chain, although it had always existed in a business operation, it gained importance when the term "supply chain management" was coined and first used by Keith Olivier, who worked as a consultant at Booz Allen Hamilton, a management and information technology consulting firm, in the year 1982.
Enquire Now for Admissions
Supply Chain Management as a field of business studies was added when the strategic importance of a better supply chain network led to a competitive advantage for a business. Since then, SCM has been offered as a course in management studies. Several top-notch colleges in India and abroad offer courses in supply chain management as a part of the MBA. Students of MBA undergo a common course in the first year and choose their specialization in the second year of their study.
Who should choose?
Students who have a genuine interest in supply chain management can make a big difference by being a part of that segment in any business. No educational background is required specifically to take up this specialization in MBA. However, some key skills can help someone to stand out and make it big in his career in the field. Some such skills are:
Technical understanding
Project management
Accounting
Planning and organizing
Ability to understand financial matrices/statistical prowess
Eye for detail
Identification of concern areas and Problem-solving
Perception of Multi-Cultural and Global dimensions
Negotiation skills to collaborate well with suppliers and vendors
Key modules
Some of the concepts taught in the course of SCM are :
Customer orientation
Global business environment
Recent trends in SCM
Supply chain configuration
Outsourcing /Offshoring/Nearshoring
Delivery model
Capacity planning
Lean and Six sigma
Agile supply management
Purchasing portfolio
An MBA student goes through basic courses in all fields in the first year in addition to their specialized subject in the second. Over and above the concepts mentioned, ERP (Enterprise Resource Planning) is also included in the Supply Chain Management course.
Why critical for business?
In the case of the steel industry, the supply chain begins from the bringing in of raw materials such as coal, iron ore; their storage; storage of unprocessed steel, steel bars, and their transport to the buyer. This entire process is highly integrated and needs to be managed efficiently through a high-performing network to gain a competitive edge over others. Good Supply Chain Management helps in reducing costs, removing bottlenecks, fewer wastage, and quicker delivery of goods and materials from one point to another. Most companies also use ERP tools to manage their supply chain function better.
Supply chain management is critical to any business because it brings in efficiency, integrated key business functions within the network, and results in customer satisfaction. It creates value by bringing down costs and fosters collaboration among suppliers, vendors, procurers, buyers. It is quite obvious that any good business would want to invest in an efficient supply chain management system to ensure strategic competitive ace. 
Career options
Supply Chain is an integral part of any company, whether they deal with goods or services. Hence there are numerous job opportunities for management graduates specializing in Supply Chain Management. Some of the more common roles that are available in this field are (but are not limited to) mentioned below :
-> Production coordinator
-> Inventory specialist
-> Transportation analyst
-> Supply Chain planning officer
-> Procurement Manager
-> Distribution Manager
-> Logistics officer
-> Warehouse Manager
-> Engineering Manager
Some of the sectors which have a huge demand for SCM managers are FMCG, Logistics companies, Retail, Food & Beverage, Oil &Gas, rubber, steel, and machinery companies.
Marketing Management
Globalization in the world economy has not only increased competition among globals players but also among domestic businesses. It has increased foreign trade. This has made businesses sit up and understand the critical role which the Marketing team plays in the companies. The marketing team has become more valued and invested. The objective is to make them more strategic and result-oriented, which in turn means that they will result in increasing the business for the organization.
Production, sales, and finance aren't the only three pillars of businesses anymore. Marketing is the most or one of the most important drivers of the business. If a company does not market its products, it will have no business, given the competition around. Several players in the industry will move in to take advantage of the loophole and claim a stake in the market share. To avoid these businesses need excellent marketing teams filled with and led by top-class Marketing professionals. This indeed has driven the demand up for a course in marketing management in the world and also in India.
Marketing is basically about matching the consumer needs to the resources of the company to come up with a good, service, or product that not only meets but excels in customer expectations. This is done through a series of interventions such as consumer behavior analysis, competitor analysis, product design, embedding customer feedback into the design, promotion, advertising, profit calculation, USP (unique selling property analysis), and delivering the product. A further extension of the team is also to ensure customer support.
Gone are the days when the relationship of businesses with customers ended with sales and payment. Customers assess a business or its products based on the kind of customer service or support they would receive after owning the product. Thus, it is a lifelong relationship and the cycle time has increased considerably. Now, what does a student expect from a course like Marketing Management? To begin with, the course has a duration of two years, like most other MBA courses. Of which the first year is common for all students.
It is in the second year that a student specialized in Marketing, Finance or Human Resources or Operations, or any other elective of choice. The students who opt for Marketing Management study in-depth about sales, advertising, types of market, trends, market research, consumer behavior, and economics to a great extent. Through this course, a student is expected to understand the roots of Marketing, consumer trends, market analysis, demand graph reading, etc, the role of socioeconomic status of a country on the sale of products.
Marketing Management students are also expected to learn about various marketing tools used to incorporate. Thus Marketing is a huge umbrella that shelters sub-topics such as sales and distribution, advertising, promotion, need analysis, etc. Colleges may choose different methodologies to teach Marketing. Such as – Seminars, textbooks, industry visits, group discussions, speakers from industries, projects, and presentations, etc.
Eligibility for MBA includes clearing graduation in any subject with at least 50% marks and securing a good score in any of the national level tests such as – CAT, MAT XAT, NMIMS SNAP, etc. Each college has its own cut-off marks criteria depending on the rank of the college. On securing the cut-off marks, an applicant is called for GD / PI or group discussion and/or personal interview round. On clearing these rounds successfully, a student gets a call to study in the college.
Why critical for business?
Marketing is essential for any organization to flourish and prevent it from running out of business. So basically, Marketing helps transform consumer demands into goods and services which the business can profitably sell, deliver, and support in the market. A company with a unique proposition can fail in the absence of a strategic marketing team. This is so because, within days of launching a new product, competitors can not only offer similar but better products at a lesser price, thus wooing customers. Thus, marketing helps to:
-> Understand consumer behavior
-> Customise an existing product into a tailor-made service served on a plate
-> Seek out opportunities to reach to newer customers and retain the existing ones
-> Studying the competition and SWOT analysis of competitors
-> Effective and best-known utilization of resources
Key Modules:
What is taught in the Marketing Management course? Besides the core subjects, some other topics that are broadly included in the course are as follows:
Consumer Behavior
Competitive Marketing
Advertising
Business Marketing
Service Marketing
Salesforce management
Sales Promotion Management
Internet Marketing
Sales management
Retailing Management
Marketing Channel
Advanced Research Techniques in Marketing
Analytical Marketing
Marketing Communications Management
Customer Relationship Marketing
Career options
Career Scope and the prospects of getting a new job in Marketing are plenty. Because every organization needs marketing professionals and fresh blood into the stream. So they hire quality grads from different MBA schools in India. So the jobs can be expected in the fields of:
Marketing Management
Brand Management
Corporate Sales
Market Research
Media Planning
Product Management
Promotional Campaigns
Social media Management
Asset Management
Some major industries which are regular recruiters of marketing are – FMCG, Food and Beverage, IT and Software, Real Estate and construction, Computer and peripherals, Electronics, Telecom, etc.
Further prospects
A student with a dual specialization in entrepreneurship, as well as marketing, may find it to be beneficial to begin a new business or a start-up. Also, some students like to pursue this line of study further into academics and move into research and doctoral studies from Indian or foreign universities.
Supply Chain
Marketing
Management
career
MBA