The world's first college to include "business" as a subject of academics was Wharton Business School, which was established at the University of Pennsylvania in 1881. However, the first institution to offer a graduate program in business was the Tuck School of Business at Dartmouth in 1900. The course provided by them was the Master of Science in Commerce degree, which was considered an advanced degree in management.
It was eight years later in 1908 that the Harvard Business School Harvard University offered the first degree in business management what has continued to date as an MBA or Masters in business management.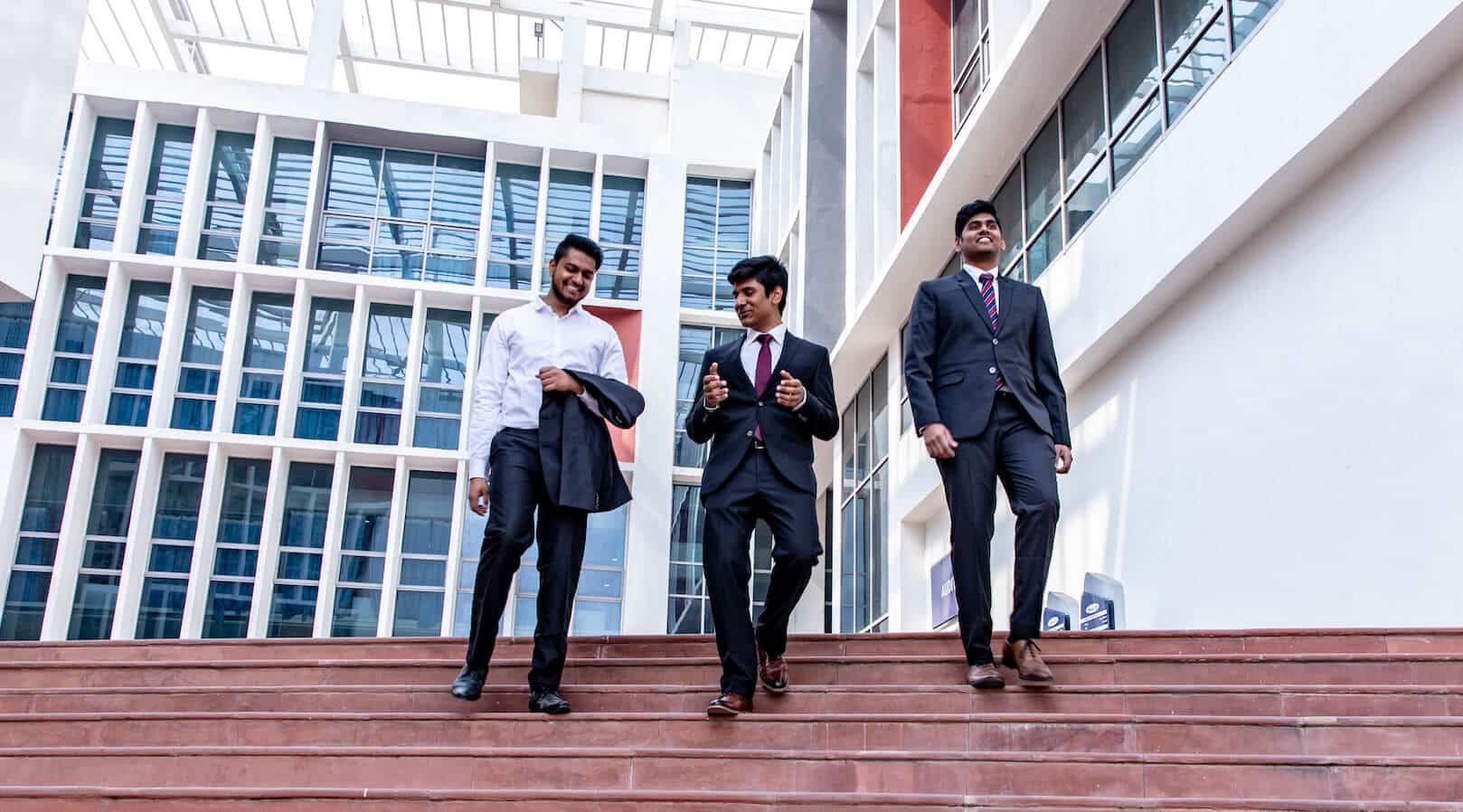 The first batch of the MBA students at Harvard had just 15 faculty members, 33 regular students, and 47 special students of which there were 0 women. For the first time, women started studying MBA when they were admitted into the Harvard Business School in the batch of 1959. The years that followed the establishment of the MBA programs saw a growing need for a customized MBA program for working professionals.
This led to the establishment of the first batch of an Executive MBA program or EMBA, as it is known today by the Booth School of Business at the University of Chicago. This saw an influx of companies sending their employees working in managerial positions for this program.
Management Education in India
Although the advent of the MBA as a degree in India happened in the year 1953 with the creation of the prestigious IISWBM (Indian Institute of Social Welfare and Business Management), the Xavier Labor Relations Institute was set up in 1949 in Jamshedpur. At that time, XLRI was giving courses for management and trade unions only. Slowly the number of colleges and universities offering MBA degrees grew in India. Today, as of 2019, India has approximately 4000 colleges offering MBA as a degree.
India today is walking on a target of reaching a 5 trillion dollar economy by 2025. What this means for the economy is that there would be a massive rise in businesses to bring about that growth. Companies would, therefore, see an enormous demand for management professionals who are built to think strategically for the thriving growth of the business. To meet this demand, students opting for MBA as a degree after graduation would undoubtedly surge.
Even today, a Master's in Business Management is the most sought-after degree post-graduation. Students from varied backgrounds – arts, science, commerce, engineering, law, and even medicine want to pursue management studies. This is for the sheer reason that an MBA provides fast-paced career growth for those who want to make it big in the corporate.
The Executive MBA program
The Executive MBA or EMBA, as it is popularly known, is so designed that it can accomplish the evolving needs of the industry.  It incorporates a perfect blend of practical and theoretical approaches to be relevant for working professionals. There are many misnomers associated with executive MBA. Some of them are as follows: Executive MBA is a lighter version of the MBA; EMBA is more expensive. There is also another school of thought which is exactly opposite to the above that says an EMBA is harder to get through, more rigorous and has more value than a regular MBA.
The general media use the terms – MBA and EMBA interchangeably, but they are not the same. However, the above misnomers associated with their differences are also untrue. In the US, Europe, and some other Asian countries, 'Executive MBA' or 'EMBA' is a premium course that is equivalent to an MBA program. This course is offered to work professionals with more than ten years of experience already. In India, these courses are available for professionals having five or more years of experience. These professionals have no way of pursuing a degree in management other than leaving their jobs.
However, they happen to be in a position where leaving the job, taking a sabbatical, being without salary, taking a break from official responsibilities is no longer possible. A regular MBA program also entails a full-time involvement for two whole years as any other post-graduation program is designed. This makes it impossible for these senior executives to pursue the course. Thus, an executive MBA is a solution for such professionals to carry on working while gaining an MBA equivalent degree without letting one affect each other.
The course of the EMBA program is designed in such a way that a senior professional needs to spend approximately 50-55 days on campus attending classes and complete the rest of the EMBA program while working. In most cases, the classes are carried out on weekends or in the evenings. The cost of an executive MBA is slightly higher than the MBA course, but it varies from college to college. The course is completed in less than two years, and the duration typically ranges from 15-18 months on average.
MBA vs Executive MBA – Key Differences
To avoid any confusion between the concepts of these two popular courses, the below differences have been pointed out. They also help to prevent any inadvertent usage of the terms interchangeably.
EMBA targets senior executives of a company having more than ten years of working experience. In India, although, there are colleges that open up this course to professionals having five years of experience or more
A regular presence in the college or university campus is not required in the case of the EMBA
Executive MBA is not a full-time course, unlike MBA
Admission to an Executive MBA is generally not based on test scores such as CAT, GMAT. It is more based on the profile of the candidate.
Usually, campus placement does not cover students of the EMBA
EMBA students are almost always simultaneously working in their company while pursuing the course. Hence, they may not require an installation.
Executive MBA fees are generally higher than regular MBA Fee
Introductory courses which are present in the MBA are not included in EMBA
EMBA classes are held over the weekend so as not to impact the working professionals
The course design is more cut out for existing executives rather than those who would be introduced to the corporate for the first time
Several organizations pay or sponsor the course fees of their employees' EMBA course on successful completion of the course
There are no specializations required in the EMBA course
MBA vs Executive MBA – Key Similarities
Although these two courses are different in their approach and target audience, there are some key similarities between them:
Both courses are designed to teach subjects in business and management
Both courses aim at creating individuals in the management cadre that strategically serve their businesses with more finesse and confidence
Both courses require an institutional setup, unlike in the distance MBA where the presence of an institution is irrelevant
Students of MBA go through a rigorous internship for a certain duration of the course and the students of EMBA undergo a project during their study
Both courses require industry exposure as a critical part of the pedagogy.
Benefits of Executive MBA
Even though an Executive MBA is more expensive, still there is a growing number of candidates seeking the exec-MBA over the past decade. This is because of some of the features of the program.
The program is modular in structure and is completed in 6-7 modules
It provides a fast track of growth within the same organization. To explain this – an employee who continues in the same organization without adding an EMBA degree is less likely to grow financially and hierarchically as much as an employee who completes the degree
Job security is much more as an employee continues in the same organization after the completion of the course
Flexibility is a key feature that appeals to a broad mass of working professionals to opt for this course as compared to a full-time program.
Benefits of the Regular MBA program
More and more companies today are hiring management graduates from MBA colleges. Also, for most jobs advertised, the presence of an MBA degree is almost becoming mandatory. This is another reason why students of all backgrounds are moving towards management as a career option simply because job opportunities are more.
A more detailed course that gradually introduces students to the corporate world
Introductory courses covered in the first year allow a student to make an informed decision about his choice of a specialization in the second year. A student from an engineering background has no way of knowing whether finance management is best for him or operations management. But the introduction to both, helps him choose what is better for him
MBA is a full-term postgraduate degree
The internship opportunities during MBA offers a student a chance to work in an organization in the capacity of an intern and gain experience and corporate exposure
Most of the leading firms in the country and abroad hire from the management institutions during campus placements which are incredibly lucrative for a student post completion of the MBA course
MBA prepared a student for management roles rather than technical roles and thus expanded his horizon of opportunities
MBA helps to build a network of professionals in the future world of business, through its numerous channels and alumni network
The scope of group activities is a lot more on a regular MBA course which helps to build on some critical competencies of a student such as – negotiation, groupthink, problem-solving, conflict resolution
Executive MBA Program at BMU
The EMBA program in BMU is designed, keeping in mind the changing needs of the businesses. There is a keen focus on international benchmarking. The students of the course progress from technical expertise to functional expertise and then to strategic planning and innovation. The key themes of the program are: Mastering the Essentials of Financial Management, Setting competitive and corporate strategy, managing innovation and organizational effectiveness, and Using performance measures to drive and communicate strategy. The course is spread over two years and is conducted on campus over alternate weekends to help working professionals strike a balance between work, academics, and family.
The course is primarily modular in structure and is divided into 8 modules that cover a broad spectrum of subjects from management science to finance to strategic HRM, MIS, marketing, supply chain, and operations. Of these 8 modules, the first year has 4 plus a project, and the remaining modules are covered in the second year. The project is a key feature of the EMBA in BMU which requires a student to complete a project within a company with the help of a supervisor and/or a senior faculty member from the college. In addition to the highly qualified full-time faculty members of the college, the program also has several venerable visiting faculty who are members of some leading corporates in the industry.
An MBA program in BMU
The unique feature of the MBA program in BMU is the student exchange program, which provides the opportunity for students of all programs in MBA to study the Global Leadership Module at Imperial College Business School in London. The students need to produce their scores on standardized management test exams like CAT, MAT, GMAT, etc. Shortlisted candidates appear for case discussion and Personal Interviews based on which they are selected. The two-year course helps a student to ace their leadership, management, strategic thinking skills, which ultimately help them to succeed in their long term corporate career.
They learn to position themselves as global leaders with their ability to thrive in a multicultural, complex, and rapidly changing business environment. At BMU, the focus is on the overall "competency" development of a student, which is why more than 45% of the curriculum emphasizes experiential learning, which includes internships, student exchange programs, student clubs, seminars, and conferences. There are numerous active workshops on real-world business problems, which help students develop life skills of problem-solving, conflict resolution, dealing with ambiguity, out-of-the-box thinking, and groupthink.
The MBA students at BMU undergo regular industry visits. This builds on a direct interface to the workplace and shop floor experience. It helps to clarify several facets of the industry processes, such as an assembly line that a student would otherwise read-only in a book. The "outside-in" approach of BMU's MBA course design helps to customize the theoretical concepts with practical inputs from the industry. This approach has attracted several top players of the industry to hire students who have been taught and trained in the BMU.
Some of the top recruitment partners of BMU are Axis Bank, Hero Group, Microsoft, Siemens, Intel, Shell, TVS among many other industry leaders. With a 98% placement record, BMU offers Logistics and Supply Chain, Human Resource Management, MBA in Marketing, Finance, Business Analytics, Finance and Investment Banking, Artificial Intelligence, and Data Engineering.