UG Programmes

MBA Programme

PhD Programme

Subscribe
Top Opportunities for Business Analysts in India [Overview]
by
BML Munjal University
March 16, 2021
Who are Business Analysts?
Before we understand the opportunities of a Business Analyst in India, let us first answer who a business analyst is and what he does?
A Business Analyst is someone who bridges the gap between a Data Analyst and a business or organization. A Business Analyst is a specific kind of Data Analyst who has excellent knowledge of both data analysis and the business domain.
Business Analysts analyze the processes, systems, models of operation of a business domain or a commercial organization to determine its performance.
Using the data (financial, marketing, people-related, and other ancillary data available), analyzing them, and modeling them, a Business Analyst can help a business make better decisions and optimize the performance.
Business Analysts are often also part of the Information Technology team in a software organization where they provide support and assistance to technological development by being a bridge between developers and management.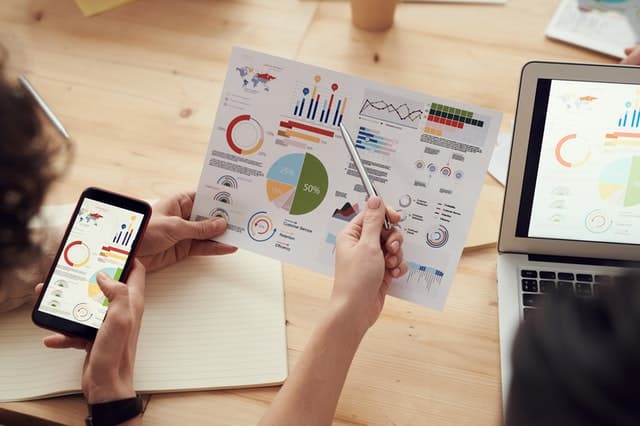 Business Analysts often work with the R&D and/or L&D teams to build training manuals, project manuals, data flow diagrams, etc. They also help in post-implementation tech-support for customers.
There are four kinds of output and tools that a Business Analysts uses to do his/her job:
a) Flowcharts and Data flow diagrams.
b) Business cases that involved a detailed portrayal of financial or technical analysis.
c) A strategic plan of a project roadmap.
d) Data Models as used in Data Science to make decisions based on predictive modeling of data analytics.
Business Analyst as a Career Choice
Let us look at the advantages of working as a Business Analyst, given that there is so much demand in the job market for a Business Analyst.
But before we move on to that, we need to understand the four different types of generic roles in which a Business Analyst can work. There are four kinds of Business Analysts:
1) Business Model analysts: They work with the strategic management to come up with a roadmap for an organization, its policies, strategies for the market approach
2) Business Developer: They analyze the scope for business expansion, weighing additional opportunities and the needs to walk that path of growth or development.
3) Systems analyst: This is an IT extension role where a Business Analyst works with technological requirements and business rules associated with it.
4) Process designers: The Business Analysts who are process designers extensively work with process workflows of a business operations.
Now that we understand the generic profile of Business Analysts at large, we need to see why many students are opting for courses in Business Analyst.
Some engineers pursue courses in Data Science and then pursue a management degree in Business Analytics. There are students from non-technical fields too who opt for an MBA with Business Analysis as a specialization. There are some obvious advantages of pursuing a career in Business Analytics, in addition to the fact that the incumbent is interested in the subject:
-> High Paying job: According to Glassdoor, the starting salary for Business Analyst in India could be 3.42 lacs INR and can go up to 10 lacs INR. We will look at a company-wise analysis of salary and requirements later
-> Offers great flexibility in terms of location or geography
-> Fast career growth
->No stagnation in a company or industry because there are great options to move around
->Exponentially growing demand
-> Plenty of available learning resources which provides continuous availability of growth and self-development
The scope of Business Analytics at BMU
At BMU, we offer an MBA program with a specialization in Business Analytics. Like all our other courses, this has been designed with the help of industry experts in the field and universities from outside India to ensure that our students receive the best quality of education and exposure to a real industry interface.
Our MBA in Business Analytics uses explanatory and predictive modeling as methods of data analytics.
This helps our students to work on real-world scenarios with large data sets and be programmed to derive insights from data as a Business Analyst in a corporate world would.
We have students from all fields such as Data Science, Engineers, Marketing, Statistics, Ops research who opt for this course.
Through our intensive course, we prepare them for a career in Social Media Analytics, Supply Chain Analytics, Ops Analytics, Big Data Analytics, Econometrics, Sales Analytics, and also Retail Marketing Analytics.
Career Path of a Business Analyst
A Business Analyst in an IT organization or any other organization with a dedicated team of Business Analysts usually progresses into a Senior Business Analyst in 2-5 years, depending on performance.
A senior Business Analyst in India can earn anywhere between 5 lacs INR to 20 lacs INR, with an average of 9.87 lacs INR in India.
A Senior Business Analyst can become a Lead Business Analyst within 4-8 years and earn between 7.32 lacs INR to 30 lacs INR, with an average salary of 14 lacs INR, according to data from 356 Lead Business Analysts working in India, as mentioned by Payscale. This data is updated and is as of 15th Feb 2021.
A Lead Business Analyst can make decisions based on documented data prepared by a Business Analyst and reviewed by a Senior Business Analyst in his team. A Lead Business Analyst coordinates between business experts and user groups to communicate relevant information. He or she also writes recommendations based on which business decisions can be made.
A senior Business Analyst can also progress into a functional role of a project manager who then heads the entire operations of a project and takes key decisions for that project from revenue, costs, people perspective.
A Project Manager can also decide on contract finalizations and steering the future of that project. An experienced project manager can earn somewhere around Rs 15,00,000 on average. A senior Business Analyst can also become an Analytics Manager who earns anywhere between 20 to 34 lacs INR per year.
Business Analysts can directly be Lead Business Analyst in certain organizations, who then progresses to become Principal Product Manager, Product Manager Software, or Senior Product, Manager.
A Principal Product Manager in India with an average of 5-9 years of experience can earn a salary of Rs 32 lacs, which can go up much higher than that.
A Product Manager Software with the same level of experience can earn between 17 lacs INR to 30 lacs INR in India. The salary of a Senior Product Manager in India with 5-9 years of experience can average around Rs 23 lacs.
Business Analysts can directly move into functional roles in organizations; they can progress into roles like – Project Manager Information Technology, Project Manager, Software or Assistant General Manager.
Opportunities to Work in India as a Business Analyst
Given the complex scenario in which the businesses are operating today – resource crisis, pandemic, cutthroat competition, changing policies, every organization is hard-pressed to find solutions to their problem statements.
They want more revenue with fewer costs, more productivity with fewer resources, more market value with fewer investments, a larger consumer base, and lesser competition.
How can an organization have it all, given that every company is trying to achieve the same, including the competitors? Therefore organizations hire Business Analysts to make these decisions easier.
Business Analysts scrutinize data, analyze them into models that reveal surprising patterns or useful insights about all data around the business's performance, such as purchases, orders, returns, people metrics, consumer behavior, etc.
This data is then patterned into predictive models, which help in throwing up answers for the future. That helps a business decide the roadmap or create strategies or change how they have been operating in the past.
It is no wonder that the demand for Business Analysts is so high. To share some facts about this so that you understand the enormity of it.
As of date (24th Feb 2021), the USA alone has over 75 thousand jobs for Business Analysts, of which 645 jobs are internships and 2200 jobs are at an entry-level requiring 0-2 years experience on Glassdoor. The salary options range between 13k to 418K US Dollars across all levels.
When we conduct the same search for India, there are 12549 jobs in India for Business Analysts on Glassdoor. This same search returned a much higher number when we searched on Naukri.com with 36930 jobs as of the date (with 16914 jobs in the 0-5 years category).
The highest cluster of these jobs is In Delhi NCR, followed by Bangalore, then Mumbai, and then Chennai, followed by other cities.
The industries in which these jobs exist are – IT/Software (with 10434 jobs in that group); Recruitment/ Placement (with 7008 jobs); ITeS or BPS (4999 jobs); Banking and Financial Services (2029), followed by other industries.
The top hirers in India are IBM, Accenture, Wipro, etc. Let us look at the top ten companies with currently existing job opportunities for Business Analysts:
-IBM India with 356 openings
-Accenture with 241 openings
-Wipro with 50 openings
-TechMahindra Business Services with 38 openings
Some other companies which hire Business Analysts are Randstad India, Sparsh BPO, Axis Bank, HCL Technologies, TCS, Capgemini, Indusind Bank, Reliance India, Genpact, Muthoot Finance, Sutherland Group.
Among the 16914 jobs in the 0-5 years experience category, 10,473 jobs offered a salary in the range of 6 to 10 lacs INR, while 10516 jobs offered salary in the range of 3 to 6 lacs. There were 3457 jobs in the 10 to 15 lacs INR category and 1146 jobs in the 15 to 25 lacs INR category.
Skills Required by Business Analysts
It is not enough to complete a Business Analysis degree to be successful in a challenging career like that of a Business Analyst. Apart from the technical skills and knowledge of tools and language, a Business Analyst must have the below mentioned skill sets to ensure they can make the most of the demand in the job market in this field.
The Skills that one needs to become a top-class Business Analysts are:
Excellent Communication Skills: Without communication skills, it is impossible to explain the findings from data analysis and present them to the larger community in an organization.
Leadership Skill: A good Business Analyst should be able to lead his team and be decisive. From methods to apply to tools to choose, resources to use, and delegation of work, a Business Analyst leads the study or analysis
Ability to take stress: Some work best under stress, and some melt in it. But working under deadlines stretched thin is a common norm in this profession. It involves a tremendous amount of pressure, and one should be prepared for it.
Solution-Oriented: Business Analysts are hired to solve problem statements. Therefore, a Business Analyst must be a problem solver. They should be passionate about finding solutions to existing problems that a business is facing.
Accepting change: Change is the only constant, and a lot of changes in an organization are due to work done by Business Analysts. Based on their analysis, a company decides the amendments they need to make in the current systems. So, a Business Analyst cannot be averse to change and should be positive towards constant work approaches.
Critical Thinking: This goes hand in hand with analytical skills, and a Business Analyst is an analyst, above all else.
Domain Knowledge: A Business Analyst is expected to have good domain knowledge, especially someone with experience. A Business Analyst from IT is expected to know profoundly about IT Softwares and systems, making him/her scalable across the industry.
Business Analysts have become an essential part of a business's desire to grow and function in a rapidly changing and increasingly complex business landscape. To speed-up business decisions based on past mistakes, companies are willing to invest in having a mission-critical approach towards their in-house or consulting Business Analytics. The advancement of Data Science has a big role in the growth in demand for Business Analysts and the tools they can use to make better business decisions. To conclude, this field's future is extremely bright, and students who think they can be a good fit should make the most of the situation to build a career for themselves as a Business Analyst.